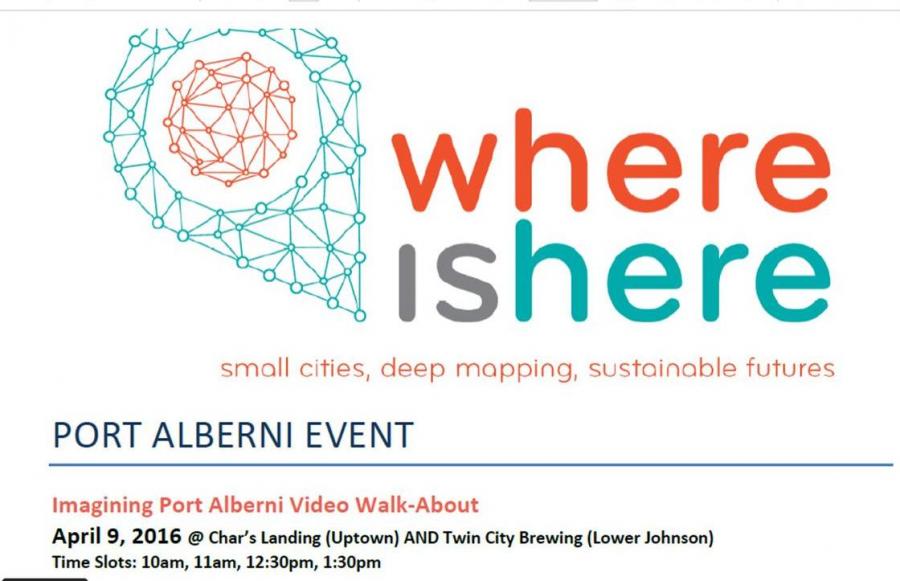 Date:
Saturday, April 9, 2016 -

10:00am

to

4:00pm
Time Slots: 10am, 11am, 12:30pm, 1:30pm Char's Landing (Uptown) AND Twin City Brewing (Lower Johnson)
The Vancouver Island University Research Team in collaboration with the City of Port Alberni invites your participation.  Share what you value about your downtown, Deepen your civic pride, Connect with other residents.  Where is Here? Is a community action project that engages residents within these cities (Port Alberni, Courtenay and Nanaimo) in a video/mapping adventure, in which participants are asked to tell a story on video about the place within the downtown core of their resident city in which they "feel most connected to their community".  Videos (no more than 1.5 minutes each) of residents talking about their "connect-spots" are uploaded onto an online map that is accessible to the wider public.  Small cities, and especially ones that are resource-dependent, are struggling to thrive in a changing economic landscape.  If you care about the future of our community, you are encouraged to participate.
FMI contact Sharon Karsten, Project Coordinator sharonkarsten@live.com
FMI http://alberni.ca/events/   Char's 19+ Lounge open 5:30-12midnight 365+ days a year  www.charslanding.com Char's Landing, 4815 Argyle @5th. Port Alberni V9Y 1V9