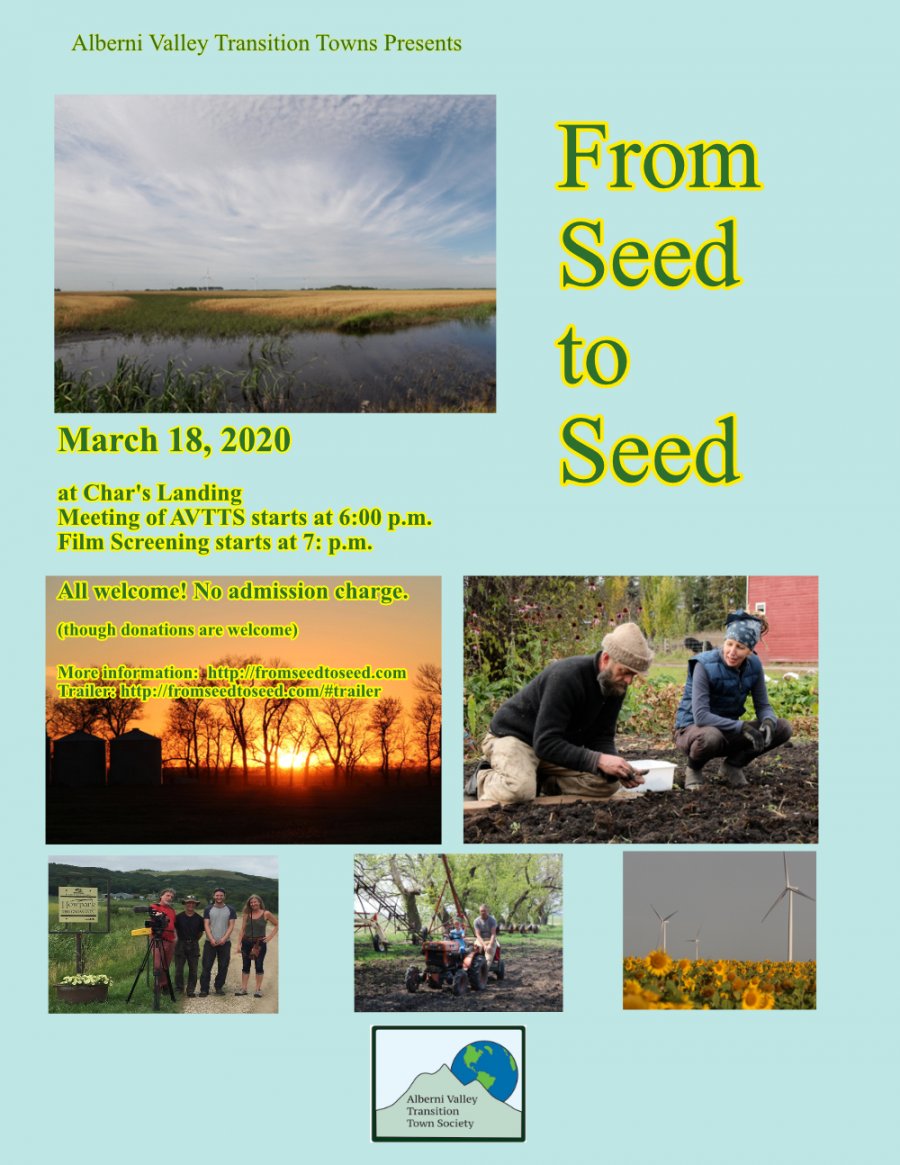 Date:
Wednesday, March 18, 2020 -
Contact:
info@charslanding.com 778-421-2427
CANCELLED COVID-19
 
Christopher Alemany
Admin · March 15 at 2:54 PM
Hello All,
Given the pandemic and in order to do our utmost to prevent any community spread of COVID-19 in this critical time I am leaning toward not having a regular face-to-face meeting on Wednesday, but I am exploring other options, including possibly just having something online/phone based. I'll let you know.
In the meantime, may I please suggest you make a donation to Charlene Patterson and/or head over there and have a drink, while maintaining appropriate social distances of course. :)
I am going to ask the AVTTS Board to pay Char for the space regardless of our having a meeting or not.
This is part of ensuring we support each other, including our businesses, in difficult times.
And if you'd like to head over to www.avtransitiontown.org and click the paypal button to make a donation to AVTTS and renew your membership (suggestions $20), that'd be great too! :)
This pandemic, this stress we are all feeling, this upending of all the things we are used to doing and feeling, this is exactly what Transition Towns is about.
It's not just a 'Transition' away from fossil fuels to a low-carbon future, but also one to try to make our community more resilient to the hardships that might come during that transition and from climate change itself.
This is one of those hardships.
I have seen people coming together in mind and purpose over the past few weeks as this has escalated. It gives me hope. It relieves some of the stress. Have you seen the videos from Italy and Spain of people singing on their balconies? It's beautiful.
We can do this.
Please reach out to your friends and family and neighbours. Take a moment to consider people you think might need a helping hand if they have to self-isolate particularly if they are over 70 or have medical conditions. Consider what we can do as a community.
And don't forget to take care of yourself. It is OK to take a moment to laugh, or cry, or scream, or sing. :)
Take care,
Chris
Wed, Mar 18th, 7pm (doors 6), AV Transition Town Society 6pm Mtg & 7pm Film: From Seed to Seed
A Documentary Film by Katharina Stieffenhofer.  
"Seed to Seed rightly illustrates how farmers can be part of the solution to our climate crisis."
— Stuart Oke and Katie Ward, Presidents of The National Farmers Union of Canada
A Slow & Steady Revolution in Agriculture
FROM SEED TO SEED is a feature-length documentary about the growing momentum of regenerative agriculture, a blend of small and large scale farmers, cutting edge science with age old traditions, and fascinating folks.
Climate change is posing increasing challenges to farmers' ability to grow food and to make a living. On this journey through a growing season from seeding to harvest, we experience the beautiful and sometimes harsh world of those who grow our food.
http://fromseedtoseed.com/  Trailer https://vimeo.com/242633372
Dedicated to a resilient, low carbon society.  Cycle Alberni, AV Gleaning Project, AV Food Directory
FMI danneau@danneau.com  http://www.avtransitiontown.org/  https://www.facebook.com/groups/avtts/
Admission by donation to defray hosting costs are gratefully accepted.  (3rd Wednesday of each month)
FMI http://alberni.ca/events/17696  https://www.facebook.com/events/793560314485325/
Char's Landing 19+ (accompanied kids welcome) 4815 Argyle @5th Port Alberni V9Y 1V9 Tel: 778-421-2427 www.charslanding.com