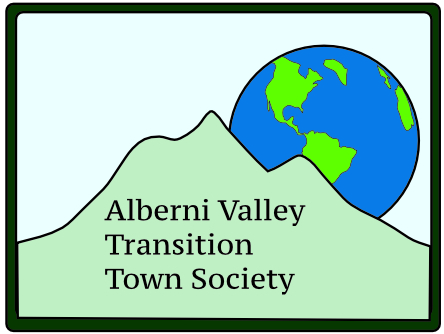 Date:
Wednesday, June 17, 2020 -
Contact:
info@charslanding.com 778-421-2427
Wed, Jun 17th, 6pm PT (virtual doors 5:45), ONLINE: Alberni Valley Transition Town Society
OK, so I think it's a Zoom meeting at 6 on Wednesday. I will forward links to a couple of pertinent video presentations. 
The flaws inherent in our present economic, social and environmental processes have been brought to the fore by the COVID 19 pandemic, and most of the remedies thus far applied and outlined in current policies may be reasonable as stopgaps, but will not move us into a zone where society can continue to flourish. The whole of the Transition Towns initiative has been aimed at this very sort of crisis, and there are thoughts circulating in our own community about how to use the current crisis and its remedies to avoid the onset of like crises in the future.
Lots to chew on!   Dan
ONLINE: Alberni Valley Transition Town Society
Join us on the 3rd Wednesday of each month.
Time: 6:00pm Pacific Time virtual doors open 5:45pm
We encourage our guests to ZOOM in early to enjoy the virtual social gathering.
Click this automatic link below:
https://zoom.us/j/96287583458?pwd=Q0hhRkR6Umh2ZGtVL3pkeGswdStVZz09
OR open ZOOM and type in the following:
Meeting ID: 962 8758 3458
Password: AVTTS
Please engage the CHAT window for comments.  We encourage you to join in with video and microphone.
FMI danneau@danneau.com   http://www.avtransitiontown.org/   https://www.facebook.com/groups/avtts/
Admission by donation to defray hosting costs are gratefully accepted.  (3rd Wednesday of each month)
FMI http://alberni.ca/events/17696   https://www.facebook.com/events/230909674874335/
Char's Landing 19+ (accompanied kids welcome) 4815 Argyle @5th Port Alberni V9Y 1V9 Tel: 778-421-2427 www.charslanding.com