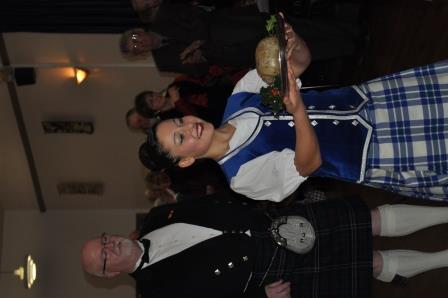 Date:
Wednesday, January 14, 2015 - 11:58am
to
Friday, January 23, 2015 - 6:00pm
Other Venue Details:
John Paul II School Auditorium
Contact:
Pattie MacKenzie 250-723-9525
Kaara Plater – Port Alberni Highland Dancer of the Year 2014 – parading the Haggis at last year's Burns' Dinner.
Come join us as we celebrate the birth of Scottish poet - Robert Burns.  The Port Alberni Highland Dance Association will be hosting the 32nd annual Robbie Burns Supper on Friday, January 23rd.
Robbie Burns, Bard and Scottish icon, is lauded every January.  He is perhaps best known for his poetry – one of the most famous being Auld Lang Syne.   The title translates to "times gone by" and is about remembering friends from the past and not letting them be forgotten.   For Scots all around the world the Burns Supper is a tradition; an evening to remember, to rejoice, and to revel in one's heritage and culture. 
It is this tradition, the remembrance of the 'poet for the people', that makes going to a local Burns Supper so much fun!  Scottish or not, be prepared to enjoy yourself beyond all expectation. With fine company, great food, and inspiring entertainment, everyone can ring in the Bard's birthday with a heart full of Scottish pride. 
The evening begins with a heart-warming and enthusiastic welcome by Mrs. Patricia MacKenzie's highland dancers from the MacKenzie School of Dance.  Dancer of the Year for 2015, Sacred Brown, will proudly parade the Haggis – a Scottish delicacy - prior to a spirited (and entertaining) address to the 'Great chieftain o' the pudding-race'.   A traditional Roast Beef Dinner is served with all the trimmings.  Toasts and speeches precede an inspiring line up of entertainment by the Scottish Country Dancers, the West Coast Highlanders Pipe Band led by Mr. Phillip MacKenzie, and senior MacKenzie highland dancers. 
The Burns Supper, which is the Port Alberni Highland Dancers annual fund raiser, will be held in the John Paul II School Auditorium.  Local businesses have generously donated raffle prizes.  A cash bar will be on site.  Doors open at 6:00 pm.  Tickets should be purchased in advance and are available at Echo Centre and Rollin Art Centre @ $30.00 each. 
Mey the best ye hae ivver seen be the warst ye'll ivver see. Mey the moose ne'er lea' yer girnal wi a tear-drap in its ee. Mey ye aye keep hail an hertie till ye'r auld eneuch tae dee. Mey ye aye juist be sae happie as A wuss ye aye tae be.
The above, in translation, reads: May the best you have ever seen be the worst you will ever see. May the mouse never leave your grain store with a tear drop in its eye. May you always stay hale and hearty until you are old enough to die. May you still be as happy as I always wish you to be.