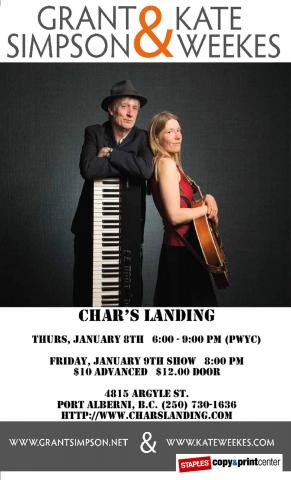 Date:
Friday, January 9, 2015 -
Contact:
info@charslanding.com 250-730-1636
Thu, Jan 8th, 6-9pm, Concert – short sets, drop-in, PWYC (pay what you can)
Fri, Jan 9th, 8-10pm, Concert – two hour concert, by admission, $10 advance, $12 at the door
Grant Simpson & Kate Weekes - 1920's Old Time Jazz, Blues, Ragtime and Stride Piano
So a Vaudevillian piano player and a Dog musher walk into Char's Landing…
Joined by long time musical partner Kate Weekes.  Together they have toured in China twice and have played many National festivals and a swath of gigs from coast to coast to coast.  The perform a good solid uplifting show.
Advance Tickets at Char's Landing, Gayle's Fashions & Rollin Arts (cash/cheque) out-of-towners email info@charslanding.com
Char's 19+ Lounge opens 4pm FMI (250) 730-1636 Char's Landing, 4815 Argyle @5th. Port Alberni https://www.youtube.com/watch?v=UVSfx2zeThA   https://www.youtube.com/watch?v=eNSkWUYsk0k
https://www.youtube.com/watch?v=XRBtHz0yExE   https://www.youtube.com/watch?v=PvRYpUcETlU
https://www.youtube.com/watch?v=Ihcy8y526wg   www.grantsimpson.net   www.kateweekes.com
1920's Jazz delivered up with a good helping of haunting Folk in Port Alberni with Grant Simpson (Yukon) and Kate Weekes (Ontario)
Coming from the Yukon, Grant Simpson is in the midst of one of the most interesting phases of his 35 year career as a jazz pianist, specializing in the style that ruled the 1920's Jazz Age – Stride Piano.  In 1980 Simpson was recruited into the cast of the world famous Frantic Follies Vaudeville Revue in the Yukon.  Initially as the professor of the 88s in the notorious Diamond Tooth Gerties Gambling Casino in Dawson City, then as the musical director of the Frantic Follies Vaudeville Show in Whitehorse, Yukon. 
Simpson has deep roots in Port Alberni with his great-great Grandfather, Adam Grant Horne who made the trek from Qualicum to Port Alberni on foot in the mid 1800s.  Horne was an explorer for the Hudson's Bay Co. and as a result of this journey Horne Lake was named after him.  His grandfather, Russell Hilliard Hicks was a Port Alberni city police officer in 1926 when he was struck by TB and died soon after. 
Simpson continues to perform during the summer months in the Frantic Follies in roles ranging from Emcee, Comedic Actor, Lead Musical Saw Virtuoso, the lead banjo player or janitor.  He spends his winters touring his unique blend of vintage music and humor as a featured performer at the Nanjing Jazz and World Music Festival, Blue Skies Music Festival, The Vancouver Jazz Festival and on dozens of shows throughout Canada as part of the wonderful Home Routes House Concerts tours. 
All this leads to a full and busy musical life, and one that brings him to Port Alberni for two performances on January 8th and 9th at Char's Landing. 
 Simpson will be performing with Ontario singer-songwriter Kate Weekes who he as recorded and toured with extensively over the past seven years.  Weekes has been touring her new CD "Frost on Black Fir" throughout Canada.
Simpson and Weekes will be at Char's Landing for two performances:
January 8th Grant and Kate will perform various numbers from their repertoire in a more more casual setting and the music will suit the mood. PWYC by donation. The music will start at 6:00 and there will be 3 shorter sets.
Friday, Jan 9th, Concert  8-10pm, Advance $10, Door $12 The concert will feature songs and stories of Kate and Grant's life in the Yukon, travels throughout China (where they have toured together twice) and throughout Canada.