Submitted by
Alberni Deep Space
on April 24, 2017.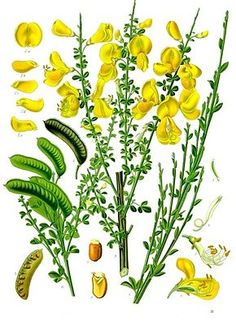 Starting April 22, a STARFLEET team will beam down to Port Alberni armed with loppers and saws in place of their trusty phasers, launching their 2017 campaign against Scotch broom.  The STARFLEET group challenges clubs, businesses, school classes, families and individuals to boldly go and adopt a patch of land to keep it broom-free.
Broom needs to be cut while in bloom, before seed pods form.  Brooming season has been sneaking up on us as climate changes.  STARFLEET group president Gillian Shearwater recalls broom peaking in mid-June.  However, in the past few years, it has been fully seeded by the end of May.  The Trek fans now begin cutting in the last ten days of April, every weekend for four weekends, racing to beat seed formation. Green pods ripen after cutting, scattering some 18,000 seeds per plant.
To learn about cutting broom safely and effectively, the website at Broombusters.org offers an excellent video tutorial.  Everyone is asked to post their broom cuts to the website to inspire others.  Essential safety gear includes eye protection, gloves, long sleeves and pants, closed-toe lace-on boots, and sun protection.  Knee pads are highly recommended.
Adopted patches can be a small as your own property or apartment grounds.  They can be group projects on public land where you need to coordinate with local or provincial government.  The City of Port Alberni can also recommend Adopt-a-Patch projects.  Broomers need to get permission from landowners or the appropriate level of government, and arrange for proper disposal BEFORE cutting.
This is down-and-dirty hand work, because each stem has to be cut at or below ground level for the cut to be effective.  Tools of the trade are long-handled loppers, with sturdy pruning saws for thicker stems.  Pulling up the plants just gives dormant seeds a better chance to sprout.  The disturbed soil opens up, the seeds fall into darkness, and moisture triggers their growth.  Weed eaters will not cut flush or below ground level.  Instead, they leave  sharp stumps hiding in the grass to gore the legs of other broom teams.
Want to see the difference?  Visit the SPCA grounds on Broughton, where STARFLEET Alberni Deep Space Port members have removed more than four dumptruck loads of broom over the past two years.  For one member, it's freeing tree saplings strangled by broom.  Another, the group's resident Vulcan, finds it "logical" to eliminate broom.  For the entire team, it's the satisfaction in seeing the difference their own efforts have made.
Broom chokes out native vegetation and creates an extreme fire hazard we can't afford in our forest community, especially in summer.  Alkaloids and other toxins make the plant harmful to animals and curious children.  Bacteria on the roots alter the soil, allowing other invasive species to thrive.  Every cut makes a difference.   Scotch broom already infests much of Vancouver Island.  It has spread as far as Haida Gwaii, north to Terrace, and south into the United States way beyond California.  It all began with a handful of seeds planted on a farm in Sooke back in 1850.
One patch at a time, broom can be defeated.  Resistance is not futile, it's essential!  STARFLEET members ask, will you help make it so?
For information about Alberni Deep Space Port and their activities, contact
albernideepspace at gmail dot com or phone 250.724.7293
For information about broom and broom busting on Vancouver Island, visit www.broombusters.org.