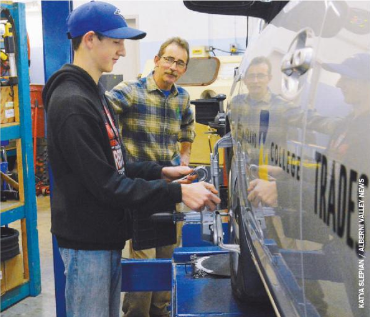 NIC's Port Alberni campus was on the front cover of the Alberni Valley News last week, featuring the trades program, which has received funding from the province of BC. Money will go to new equipment that will help ensure North Island students continue to graduate with the skills and knowledge needed to work in industries close to home and across the province.
Read the full article as a PDF, or in the link below.
Port Alberni Parent & Student Info Night
Do you want to learn more about Trades and Technology opportunities at our Port Alberni campus? Join us for our Parent & Student Info Night on Wednesday, November 9 from 6-7pm.
Get the answers and support you need to make your choice and ease the transition to college.
This will be an enjoyable evening for parents and high school students to learn about NIC programs from faculty who teach them, and to ask advisors your application questions.
For more information about the event contact Jana DeVito at: 250-724-8735 or email: jana.devito@nic.bc.ca.