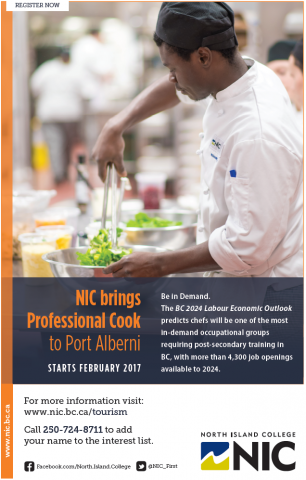 Be in demand. The BC 2024 Labour Economic Outlook predicts chefs will be one of the most in-demand occupational groups requiring post-secondary training in BC, with more than 4,300 job openings available to 2024.
Start your career as a Professional Cook in Port Alberni, January 2017, while honing your skills in our state of the art training facilities.
Date: January 30, 2017 - August 11, 2017
Location: Port Alberni campus, Culinary Arts building, Rm 118
Times: Mon-Fri, 8am - 3:30 pm
More details on Professional Cook 1 (PCA 100)
Questions about the Professional Cook program at NIC? Visit the Culinary Arts program page or watch this video featuring the Port Alberni culinary arts kitchen. You can also contact questions@nic.bc.ca for more information.