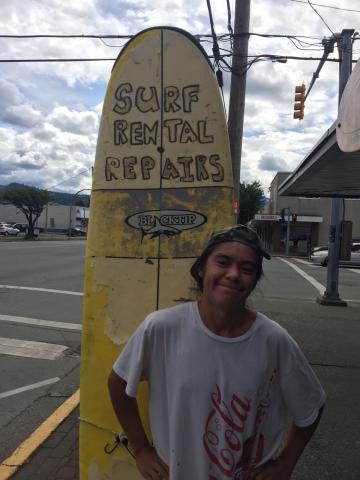 Chad Samuel is a student in the ET/CL program who has a huge passion for skateboarding and demonstrates an excellent work ethic. Chad had much to say about the program and what its many benefits were. He started the program because he needed some structure. "I was mainly looking for something to do, honestly. I was getting bored sitting at home for so long. In the summer, it was all fun. I was having a blast, but there were a couple years where I did just skip out of school to go skateboarding and what-not. There were two years where I wasn't ever in school because of it, just enjoying life. Now it's different because I wanted something different, and this is what it was. I had a blast going through the course."
Chad used to work at the fish plant in Ucluelet, where several employees fooled with sensitive equipment and one even let out a severe gas leak that could have caused a great amount of fatalities, but Chad is a diligent and responsible employee, especially after going through ET/CL. He described the program as awesome and praised it over his job at the fish plant by saying, "It consumed more of my time, which is what I really wanted. Other than that, I love the teachers; they're really good teachers. It's been a blast, being around everybody. That's really what it boils down to. We're all here to have something to do, not land a huge construction job. Most of us were just there to be there, and to find something to do in our lives other than sit around at home and play video games. I've always been one of those people who get up and go, not because other people asked me to; I did it myself. I used to work twelve-hour shifts, and it was never fun, because I'd just wake up, go to work, sleep, go to work with no time off. It was good money, but it wasn't worth it after so long. That's another side with the money thing. Everything revolves around money nowadays, so you either go to school and get a good- paying job, or you don't go to school and get a minimum-wage job."
Chad also expressed a wish to say something very important to the community about ET/CL, "Honestly, what I would say is to support it, really. Get your kids to join it, and literally, if you're 40 or 50 years old, you can still join up; take the opportunity. That's something you need in life, to proceed to rebuild this or rebuild that. It's also not a physically demanding course by any means. People have a misconception that it's all hand saws and hammers and stuff like that. No, there's chop saws and all kinds of power tools. People don't realize how laid-back construction really is." The benefits of ET/CL for older dropouts from school are just like those at VAST; anyone can take the course and benefit from taking it, no matter how old they are or the amount of money they have. They won't just have their working lives changed, but their personal lives as well.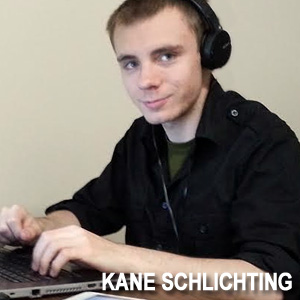 About this blogger:
Kane Schlichting is a writer, blogger and college student with the ET/CL (Employment Transition/Construction Labourer) program, with interest in short stories and photography.
Contact Kane
Disclaimer
The opinions expressed within this blog and those providing comments are theirs alone, and do not reflect the opinions of North Island College (NIC) or Alberni.ca.. NIC or Alberni.ca are not responsible for the accuracy of any of the information supplied by this blogger.