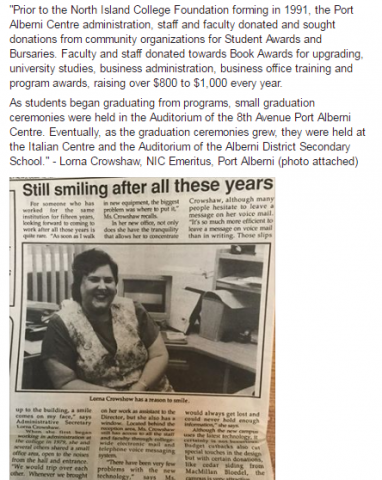 NIC's 40th Anniversary
In 40 years more than 155,000 students, across 80,000 square kilometres have taken a course at NIC. To celebrate, we've put together a history of the college that highlights our humble beginnings in 1975, our progress and accomplishments of today as well as a look into tomorrow.
WE'RE NOT DONE: WE NEED YOUR STORIES
The insights, anecdotes, achievements and stories received from staff, students, faculty, alumni, and members of the community has been greatly rewarding. We're deeply appreciative of everything that has been sent our way, from emails, to handwritten letters, audio recordings and newspaper clippings. We could only fit in a small handful of the memories that have been shared and we feel the need to give a voice to all the stories, including those that are still out there waiting to be heard.
The NIC Stories Facebook Group is a home for those stories. It is a group for anyone to post on - created for you, by you! Please help us develop the colourful, fun, inspiring history that is the college and its inclusive reach throughout the north island.
Join the group and leave your story on our wall. It can be a memorable moment, a picture, a recollection of NIC's past, a note about what inspires you about the college, or a funny memory of your time at NIC.
If you don't have access to social media, and would still like to share your story if you've not yet done so, send us an email at: stories@nic.bc.ca.
NORTH ISLAND COLLEGE - CELEBRATING 40 YEARS OF EDUCATION
Read the 40th Anniversary publication, and learn more about how the college moved from mobile learning units in vans during the 70s, and an ex-whaling ship, to classroom based learning with centres and campuses from Campbell River to Bella Coola.
Hard copy versions are coming soon to a mailbox near you! Check the Alberni Valley News on Tuesday, June 14. We hope you enjoy reading our story as much as we've enjoyed putting it together! Thank-you to all for your hard work, dedication, and enthusiastic commitment to our college and we look forward to reading (and sharing) more memories.