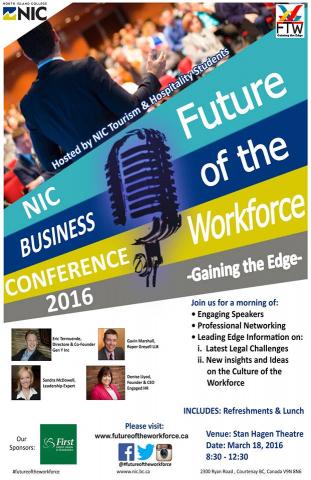 Join North Island College Tourism and Hospitality students at the Comox Valley campus for a morning of engaging speakers, professional networking, leading edge insights and ideas on the culture of the workforce, and much more at a Future of the Workforce conference, March 18.
This event is open to the public and welcomes all members of the Port Alberni business community.
When: Friday, March 18, 2016
Where: Comox Valley campus
Time: 8 am - 12:30 pm
Cost: $69
Register online now. Conference registration includes the keynote presentation and breakout sessions as well as coffee breaks and a networking lunch.
CONFERENCE SPEAKERS
ABOUT FUTURE OF THE WORKFORCE
This conference is conceived and organized by the Convention and Special Events class at NIC, one of the many courses specializing in hospitality & tourism at North Island College. Each year students in this course are challenged to come up with an idea for an event and then to make it happen. "Future of the Workforce - Gaining an Edge" is their idea and they are working hard to make it happen.
Visit the Future of the Workforce website for full conference details.