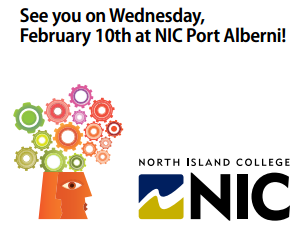 The Guidebook and itinerary for North Island College's upcoming High School Open House is now available.
Prepare for your day with us on Feb. 10, 2016 by checking out the list of interactive sessions. Explore health care assistant practices, discover the magic of chemistry, get plucky with biology, enjoy hands-on physics and engineering, take a peek into the culinary arts, fuse your future with welding and much more!
Be sure to stay up-to-date on all the details leading up to the day and join our Facebook event... you'll even find out about an exclusive Open House contest!
Questions? Contact Nancy Twynam for more information: 250-724-8704 or email nancy.twynam@nic.bc.ca