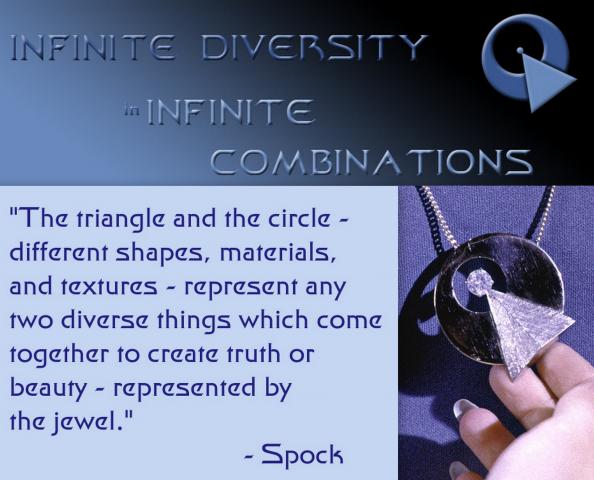 In 2016, Port Alberni will welcome least one Syrian refugee family, hopefully two. The Port Alberni Refugee Sponsorship Committee (PARSC) is working on two avenues: one with some government funding, the other relying entirely on private sponsorship. (Canada has pledged to receive at least 25,000 displaced Syrians.)  In December, PARSC held a fundraising dinner with a welcome from the Tseshaht First Nation, food from the Sikh community, organized by citizens of various beliefs, to sponsor a Muslim family.  It proves we can work together, we can be a living example of "infinite diversity in infinite combinations."
In 2015, the United Nations turned 70 – an enduring example of human collaboration on a global scale. Each year, the United Nations matures and grows, taking on challenges that no single country can manage, moving us one step closer to Carl Sagan's Level One civilization – a planetary social system.  On September 25 last year, the Paris Climate Change Accord was signed by 195 countries committed to saving our planet.  As Secretary-General Ban Ki-Moon said, "There is no Plan B, because there is no Planet B."  Someone has finally heard the messages Earth has been sending, as climate chaos brings flood, fire, drought, deluge, and storms packing winds over 250 km per hour.  There are over 4.3 million registered Syrian refugees of war.  But compare that to 1.6 billion people already displaced  by climate disasters.
We, individually and as a community, can DO something to help the victims of war and conflict.  But we also need to stop the other war – the war against nature and our planet.   We can and must ENGAGE as individuals by educating ourselves about energy conservation, local healthy food production, and impacts of consumerism – all within our personal power.
In 2016, Star Trek turns 50 -- younger than the United Nations. Yet the fictional United Federation of Planets is guided by Articles of Federation based almost word-for-word on the Charter of the United Nations.  Seems even Gene Roddenberry thought the UN Charter was a model for the future.  If Star Trek forever changed the way the world looks at the future, the United Nations is our roadmap to get there -- the only way to create that 24th century world where poverty is banished, literacy is universal, and Earth is at peace.
But peace begins with me, with us -- opening our arms and minds to infinite diversity in infinite combinations.  Peace means engaging with First Nations  wisdom:  Hishuk ish tsawalk – everything is one and all is inter-connected.  It means we stop beating our Earth and start healing it and ourselves.
As Emperor Marcus Aurelius wrote nearly two millenia ago,
Frequently consider the connection of all things in the universe and their relation to one another.  For in a manner all things are implicated with  one another, and all in this way are friendly to one another . . . .                                [Meditations, Chapter VI.38]
In the words of Al Gore, in his 2009 book, Our Choice
. . . we should feel a sense of joy that those of us alive today have a rare privilege that few generations in history nave known: the chance to undertake an historic mission worthy of our best efforts.  It should be seen as an honor to live in a time when the future of human civilization will be shaped forever by what we do now.                 [p. 15]
We are the crew of Spaceship Earth, orbiting our minor star as it wings around our galaxy.  Our mission:  to put our vessel and ourselves to rights; to make the human journey matter in time and space, to boldly go where none have gone before in human history – to make our planet not just a better place to live, but the best place to live, and to explore the furthest frontiers of the future.
We are on "some kind of . . . star trek." 
First star to the right, and straight on 'til morning.  Happy New Year
 
[Gillian Shearwater is a  member of Alberni Deep Space Star Trek Fan Association. The group offers monthly meetings, Trek games nights, video nights and more.   Interested in what we do?  Comm channels:  albernideepspace at gmail dot com or phone 250-724-7293]
DISCLAIMER:  Alberni Deep Space Port Star Trek Fan Association is a registered BC non-profit society, affiliated with STARFLEET, the International Star Trek Fan Association, Inc. -- itself  a registered not-for-profit based in the United States.  Use of trademarked terms is under "fair use" only, as permitted by law.  No infringement is implied or intended.  This message and this organization are both not-for-profit.
 
References:
Port Alberni Refugee Sponsorship Committee            http://www.parsc.ca/
Refugee data:  As of 2015 Dec. 17, the United Nations reports over 4.3 million registered Syrian refugees.  Turkey alone has taken in 1.9 million, Jordan has over 600,000.   Even Iraq has over 240,000.  In Europe, Sweden has given home to over 135,000.   Worldwide 60 million refugees have fled their homes – the highest in history.
http://data.unhcr.org/syrianrefugees/regional.php
http://data.unhcr.org/syrianrefugees/country.php?id=107
The United Nations – Year in Review 2015 https://www.youtube.com/watch?v=M0_kxsCFZOQ
UNHCR – Climate-displaced persons  http://www.unhcr.org/5448c8269.html
 
2015 September 25:  Agenda 2030 adopted in Paris
17 Goals to transform our world (and inspire us all).  Among them:  end extreme poverty in all its forms over the next 15 years:  http://www.un.org/sustainabledevelopment/sustainable-development-goals/
https://www.youtube.com/watch?v=akG_50JwUJQ
 
Malala Yousafzai:  " . . .  that we will make this world, not just a better place, but the best place to live."  2015 Sept. 25, address to the United Nations.  At age 17, Malala became the youngest Nobel Peace Prize laureate in history.  She is an advocate for universal rights to education.   https://www.youtube.com/watch?v=qEswHDTMdck
 
Our Choice, by Al Gore (Rodale Press, 2009)
http://www.syndetics.com/index.aspx?isbn=9781594867347/summary.html&client=vancoirl&type=rn12
 
STAR TREK references:
http://treknationmovie.com/
http://www.hollywoodreporter.com/heat-vision/star-trek-flashback-leonard-nimoy-753659
Articles of Federation in Star Fleet Technical Manual (1975), by Franz Joseph Schnaubelt
http://www.amazon.com/STAR-TREK-Technical-Training-Command/dp/B002NC4F18
 "You're all . . . astronauts, on some kind of ... star trek."  Zephram Cochrane, in the movie "First Contact."