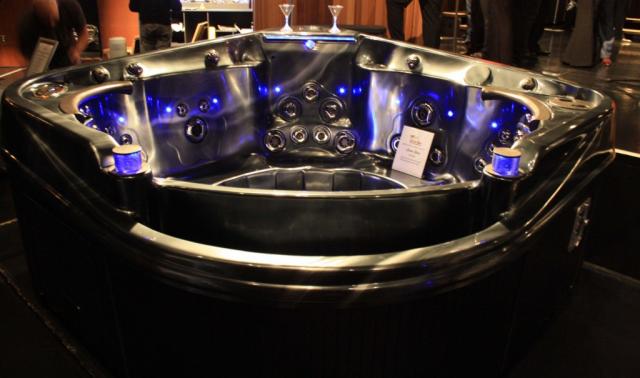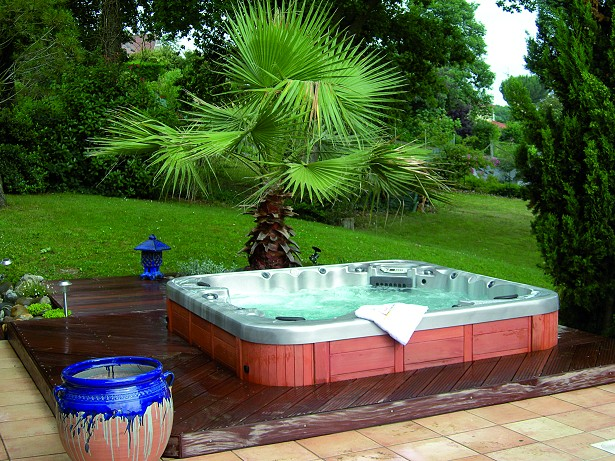 Not necessarily. Many spa companies will cut corners to offer you a tub that has a great price & looks good, but doesn't have much lasting power.  
If you've decided to buy a hot tub, it's beneficial to do some research on the brands available in your area. Purchasing a tub in your area makes it a lot easier down the road for you if you have questions, or need warranty service, etc. Install may be cheaper or included in the price as well, make sure you know before you commit. Consider the spa builder's reputation, and product. Explore what's included in each option package from standard to luxury. It's easy to get caught up in the cosmetics of a hot tub, don't be fooled by the glam! Make sure any tub you purchase is built with quality components. Often tubs will be cheaper because they have a thin shell, cheap pumps, jets, plumbing & structure. These are the things that need to be constructed well so that you can enjoy your tub for a long time to come. 
The hot tub's shell is very important. First, you want to make sure that the material it is made out of is non-porous. Porous shells collect bacteria that could prove hazardous and unclean. Also, shells that have a superior sealant of some type will protect against cracking or blistering of the surface. If you're unsure of the quality of a hot tub's shell, look at the warranty. Companies that provide the best shell warranties on their hot tubs are generally made from the best materials, making long warranties possible. Coast Spas have a lifetime warranty on their shell. 
Insulation is an obvious cost cutting place for a builder. Unfortunately it's an important feature for your tub to have. An un-insulated tub will cost you much more on your hydro bill than you saved on the initial price A quality tub builder will add some kind of insulation as a standard feature.  
Filtration is probably one of the most important things to look at when buying a spa or hot tub. After all, no one wants to relax in dirty water. Look for systems that have multi steps such as sweeper jets to push debris off the bottom, suction & skimmer ports. Coast Spas also offer a pressurized cyclonic filtration chamber that utilizes the entire filter instead of the usual 30-40%. Large horsepower pumps are sometimes advertised to sell a spa but without a well-designed system that has efficient plumbing, water jet design and flow control to back it up it's not really helping. Better hot tubs feature small circulation pumps that take care of filtering the water and provide the necessary flow to allow the heater to maintain the set temperature. Hot tubs without circulation pumps rely on the low speed of a two-speed pump turning on periodically to provide filtration, ozone injection (if equipped with it) and the flow required for heating. Either option is good. Some premium hot tubs include more than two pumps to ensure adequate power for hydrotherapy, features such as cascading waterfalls and effective circulation. 
Check the operation of the hot tub. Are the controls user-friendly, easy to operate and easy to adjust? Is there a lock-out option if you have small children? Can you set custom filter cycles? Can you adjust the controls from inside the tub? 
Ask the sales person if there are gate valves on the hoses. This inexpensive item can make a big difference when you need to service your tub. It allows the motor to be worked on without the tub needing to be drained, and then refilled for testing. This option saves your service person time, and saves you money. Also look for threaded unions on all pump connections. Many builders put an unsecured wire clamp that will loosen over time. 
Ask what material the frame is constructed of, and how energy efficient the motors are. Estimate your monthly operation costs. A 5-6 person efficient tub should run about $1 a day in hydro. Chemicals would be extra. Depending upon how they are engineered, some hot tubs may require significantly more electrical power and have higher maintenance costs.  
Find out how much power you have available in your home, and if you can add more. Unless you're looking at a tub that runs on 110, you'll want to have a 50 amp breaker for your hot tub needs. 
Ask the the dealer if they will be able to service your hot tub after it's installed? Does the dealer carry replacement parts & chemicals? 
Always sit in a spa before you buy it. Either wet or dry your perspective can change from inside. How do the seats fit you? Does your neck fit comfortably in the rests? Would you prefer a lounger seat, or not? Are the jets in the correct place for the areas on you that need massage? Are any jets adjustable? Are the jets easily replaced? 
You may also want to consider the room you will need for your tub.  Measure the space you have and remember that you will need access to the panel where the motor is, Where the cover will go when off, and if you will need extra room for a cover lifter. How much space steps will take up if you use them. Do you want to have a railing to assist in exit and entry of the tub? What are you putting the tub on? How much weight can it support? Is it possible to add more support and what would that cost? How many people do you want to put in a tub? Do you need screening or a shelter of some kind to protect your tub from other people's view or strong winds? 
 Coast Spas makes quality tubs for every price range. All their models are built with durable components regardless of price. You can rest assured that if your budget is small you will still get the durable components that are necessary to having a long lasting, headache free tub. If you are looking for luxury options & upgrades, and have a larger budget the sky is the limit. The basic features in every Coast Spa tub are built to the highest standards.  
Buying a hot tub should be looked at as a long term investment. Planning, research, and asking a lot of questions may take a bit of time, but look at it as prolonging the excitement! Don't be rushed into a sale. Make sure you get something that suits your needs, and remains enjoyable for years to come.