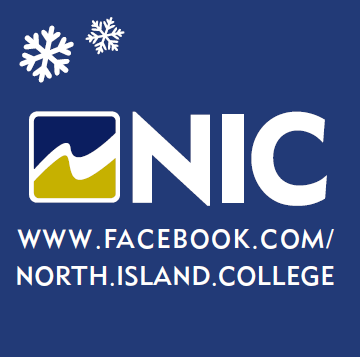 North Island high school students have a chance to win one of five Best Buy gift cards in January. To enter, high school students must simply like our Facebook Page by Monday, January 25, 2016 at 8 am.
High school students from North Vancouver Island can click here to like our Facebook page and be automatically entered to win!CONTEST DETAILS
The North Island College Facebook contest requires participants to "like" the NIC Facebook page to be automatically entered for a chance to win.
Register before Monday, January 25 at 8 am, 2016.
Your name could be randomly selected to win a $20 gift certificate on each of the following days at 12 pm: Monday, January 25, Tuesday, January 26, Wednesday, January 27, Thursday, January 28, and Friday, January 29, 2016.
Each student will be automatically entered upon "liking" the Facebook page.
CONTEST DATES
Contest entry period begins on Monday, December 7, 2015 at 8 am Pacific Standard Time (PST) and ends on Monday, January 25, 2016 at 8 am PST.
HOW TO ENTER
Enter the contest by liking the NIC Facebook page at: www.facebook.com/North.Island.College. Your name will be automatically entered into the draw. The deadline to enter is Monday, January 25, 2016 at 8 am Pacific Standard Time.
ELIGIBILITY REQUIREMENTS
The contest is open to high school persons who are ordinarily resident in Canada, excluding Quebec, and who live on Vancouver Island. No purchase is necessary.
To be valid, the entries must be received by Monday, January 25, 2016 at 8 am Pacific Standard Time.
The odds of winning are one in 400.
To be eligible for consideration, contestants must agree to the contest Rules and Regulations as shown on the NIC website.
DETERMINATION OF CONTEST WINNER
Winners will be randomly selected in one of five draws conducted by NIC Marketing. If the winner cannot be reached within three days following the first attempt of contact or declines the prize, NIC will then conduct another random draw and award the prize to the participant selected. Winners may be announced on NIC's Facebook page and associated social media sites. The odds of winning are one in 400. Winners will be required to answer a skill testing question to receive their prize.
PRIZE DISTRIBUTION
The five winners of the contest herein will be awarded one $20 (CDN) gift certificate to Best Buy each.
GENERAL
NIC reserves the right to amend the contest rules herein or to terminate the contest at any time without any liability to any contestant or third party. Any amendments to these contest rules and regulations herein will be posted on the contest website at www.nic.bc.ca/about_us/promotional_contest. NIC assumes no liability for any loss, damage or injury, including but not limited to: (i)inability of any person to participate in the contest herein for any reason including mistaken addresses on mail or e-mail, technical, computer or telephone malfunctions or other problems with computer on-line systems, servers, access providers, computer equipment, or software, congestion on the internet or at any website, or any combination of the foregoing; or (ii) prizes that cannot be awarded or accepted.