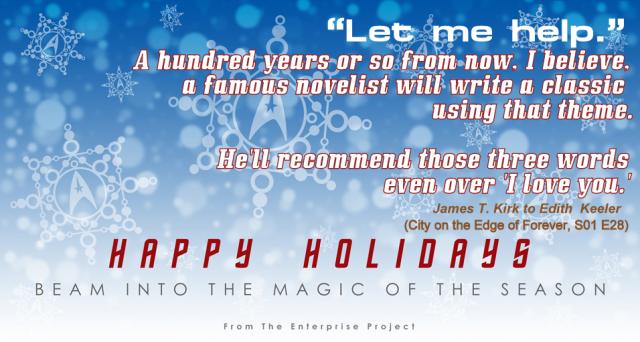 There's something magical about the blaze of coloured lights in a black velvet winter night.  Be it Christmas, Yule, Diwali, Hannukah, Nawrooz, Saturnalia and more – most human cultures celebrate light shining in dark times.  It's the spirit of the season, the same season that moves the hearts of characters from Ebenezer Scrooge to the Grinch to you and me.  It's a year of kindnesses paid forward into this one brief season.
'Tis also the season we seem to lose our sense of reason – when getting and spending churn the Great Material Continuum into a torrent fit to chill the most hardened Ferengi heart.  That chill is real and physical for many in our community as the weather turns cold, wet and/or freezing – when getting a meal and a warm place to stay are more important than the latest X-Box release or celebrity perfume or automotive accessory.
Volunteers who have given their best shot for the preceding twelve months are running low on energy and emotional reserves just when need for their help is greatest.  Soup kitchens, food banks and shelters typically run low on resources just when demand is high.  Ironically, at times like these hard-nosed materialism has a role to play.
How much does it cost to provide minimum nutrition for one day per child (1400 – 2900 calories) or adult (2300 - 3200 calories)?  What's the average cost of minimal winter clothing (coat, hat, gloves, scarf, socks, waterproof boots) for one individual?  How much floor space is needed to shelter one person with a measure of personal security each night?  What is the cost of utilities to keep that space heated and lit to modest standards?  Who pays dispensing fees and deductibles for prescribed medicines when the patient has little or no income?  How much will be left of minimum-wage part-time earnings after the rent is paid?  A whole lot of stuff about the holly, jolly season can be quantified and measured in the same way Scrooge tallied the lumps of coal Bob Crachit was allowed to burn at work.
This is a numbers game that Quark would understand.  It's all about the cost of acquisitions:  a meal, a shelter bed, health care.  Donations of dollars, cents, and latinum make it possible for agencies in our community to shine some light into dim spaces and brighten a life or three.
But it's not just the money.  Captain Picard said it best in the Star Trek movie, First Contact (1996).  Describing 24th–century Earth to 21st-century Lily (and probably breaching a string of time-travel protocols), Picard explains that " . . . . The economics of the future are somewhat different.  You see, money doesn't exist in the twenty-fourth century. . . . We work to better ourselves . . . and the rest of humanity."
Why wait for the 24th century?  We can better ourselves and our communities here and now.  Time, for once, is on our side.
Because your time might be more valuable than your money, especially in this season.  If you're up for it, a couple of hours ringing bells for a Salvation Army Christmas kettle can bring in more in donations than you or I could likely contribute in a year (and yes, Port Alberni, money raised in Port stays in Port).  Volunteers are urgently needed for this single largest fundraising campaign of the year.  The Bread of Life soup kitchen needs volunteers year-round, and especially on Christmas Day when they serve a complete Christmas dinner in two sittings.  The Port Alberni Shelter Society, Kuu-us Crisis Line Society, Alberni Community & Women's Services, and Alberni Valley Hospice Society also need help – seasonally and year-round.
Caught in a time-warp?  Consider donations in-kind, especially if the agency has a wish-list.  It takes time to purchase and deliver supplies:  your time can free up their time for other urgent tasks.  For example, our local SPCA cares for our companion Earthlings with similar needs:  bedding, food, homes, and a kind of "soup kitchen for critters" through the Animeals program.  SPCA branches receive no federal or provincial funding.
So where's our profit in all this? asks your inner Ferengi.
What we gain is that Picardian edge, an opportunity to better ourselves:  a better understanding of our fellow sentient beings, a better understanding of ourselves, expansion of our skills and experiences into undiscovered countries, new worlds explored within our own community.
Years ago, BBC International held a poetry contest* on the theme of "neighbours."  The winning poem described two neighbouring homes under the night sky, "under one roof, stitched together by the sharp, bright nailheads . . . of stars."*
On cold, clear winter nights as we look up at those sharp, bright stars, we are reminded that everywhere on planet Earth we are all stitched together under one roof.
'Tis the season when each of us has an opportunity to make what happens under that roof a little brighter, a little warmer, a little more heartful for our companions on spaceship Earth.
Merry Trekmas.
 
[Gillian Shearwater is a  member of Alberni Deep Space Star Trek Fan Association. The group offers monthly meetings, Trek games nights, video nights and more.   Interested in what we do?  Comm channels:  albernideepspace at gmail dot com or phone 250-724-7293]
                                                                                                           
References:
* BBC International, aired sometime in the late 1980's; author not known
United Nations Food & Agrigultural Organization:  Human energy & protein requirements
http://www.fao.org/docrep/MEETING/004/M2995E/M2995E00.HTM
TOS S01E28 City on the Edge of Forever transcript  http://www.chakoteya.net/StarTrek/28.htm
First Contact:  the movie transcript  http://www.chakoteya.net/movies/movie8.html
Merry Trekmas:  Geeky music for your holiday listening pleasure!    Jolly Trek parodies of Christmas songs in a free and legal download:  musician Rick Moyer's gift to the planet nearest you.    http://www.christrocks.com/merrytrekmas/
 
Partial list of support agencies in the Alberni Valley (cited in blog)
Salvation Army (Port Alberni):  office, Christmas Kettles, food bank, family services info:   250-723-6913
Christmas Kettle Campaign coordinator Greg Penny:  (250-720-3507)  avkettles@shaw.ca
Bread of Life Centre (250-723-4049)  http://www.alberni.ca/community-groups/bread-life-centre
Port Alberni Shelter Society (250-723-6511) http://pashelter.weebly.com/
Kuu-us Crisis Line Society (250-723-4050) http://www.albernihosting.com/kuu-us/
Alberni Community & Women's Services Society (250-724-7111)  http://www.acaws.ca/
Alberni Valley Hospice Society (250-723-4478) http://www.albernihospice.ca/
Alberni-Clayoquot SPCA  (250-723-5269)  http://www.spca.bc.ca/branches/alberni-clayoquot/
http://www.spca.bc.ca/branches/alberni-clayoquot/support.html
 
More support agencies:  Alberni Valley Social Planning Council   http://www.avsocialplanning.org/?cat=14
 
DISCLAIMER:  Alberni Deep Space Port Star Trek Fan Association is a registered BC non-profit society, affiliated with STARFLEET, the International Star Trek Fan Association, Inc. -- itself  a registered not-for-profit based in the United States.  Use of trademarked terms is under "fair use" only, as permitted by law.  No infringement is implied or intended.  This message and this organization are both not-for-profit.