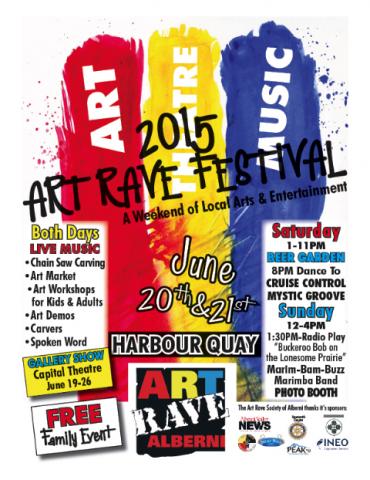 What nicer place to be on these too warm days – Harbour Quay
This weekend we have Art Rave and on July 1st Quay of Sea.
Art Rave has organized a full range of FREE family events to start after the finish of the Saturday Farmer's Market and after the Sunday Craft market.
Saturday has a range of musical performers and a bang up evening concert/dance with Cruise Conttol and Mystic Groove. That evening the Young Professionals will run a refreshment garden aka beer garden and dancing is sure to go late.
Sunday is especially orientated toward Father's Day with a range of musical performers, a radio play performed on stage – Buckaroo Bob in the Old West – sure to be a crowd pleaser. Marium Bam Buzz will be out along with others, banners, carving tents and ice cream and much more... perfect for fathers and all.
Art Rave also have a week long art show on stage at the Capitol Theatre 10.30 to 5 daily until the 26th. Be sure to drop in a see some local and 'other side' artists at their best.
Tickets are still available for the reception on Friday 19th – Rollin, Swale Rock, Char's.
See the wrap on the Thursday Alberni News for full program details.
 
Quay of Sea is busy organizing for July First.
 The Alberni Valley has talent. Lots of talent. Alberni radiates talent. July 1 st , at Spirit Square (HarbourQuay), bask in the glow of that talent showcased once again for Canada Day 2015.
Commencing at 2pm, bring your fold up lawn chairs and be prepared for a day of eclectic, vibrant music to kick off the summer season on the Island. A variety of musicians and other talented performers will be featured on what promises to be another successful celebration of 'all that we have to offer' in the Alberni Valley.