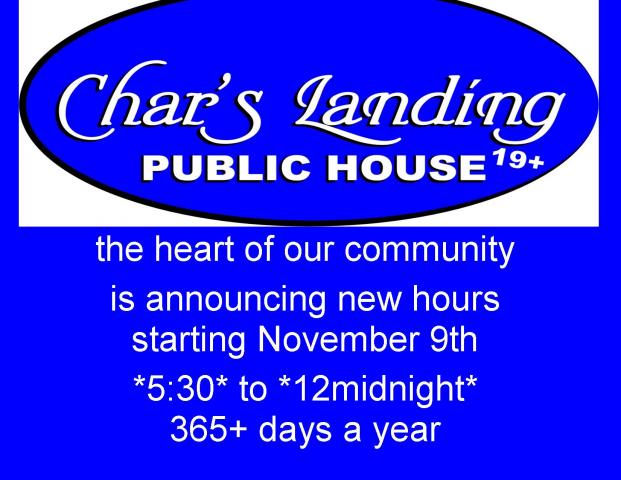 Char's Landing 19+ Public House
the heart of our community
open 5:30-12midnight, 365+ days a year
serves the full selection of Lighthouse Brewing Company craft beers
boasts the widest selection of mocktails (alcohol free) and cocktails
Sit back on the comfy couches in the aft lounge and watch a bit of TV or read a book from the library or play a board game with a friend.
Sundays - Matinee concerts - Noah Derksen, Caleb Hart, Rockland
               - Motown pub style music with Great Escape
Mondays - Lounge music with Mohr Masala or City Council Meeting debrief
Tuesdays - Concerts - The Lion The Bear The Fox
Wednesdays - 3rd AV Transition Town, last Linda's line dancing
Thursdays - 3rd Own the Stage Musicians open mic, last AV Words on Fire! Spoken word open mic
Fridays - TGIF-LGBT-PIPA dance social
Saturdays - Concerts - John Pippus, Chelsea Amber, Elizabeth Shepherd, Eugene Smith, Beth Marie Anderson
plus much much much more... see www.charslanding.com or Char's Landing facebook page for event details.