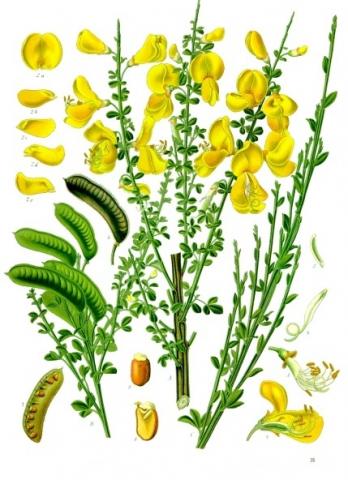 The alien invaders are here!  Resistance is not futile -- it's essential!  Join the battle and save a patch of Earth right here in the Valley!   This is our second annual brooming campaign, and we're looking for a few Allies of the Federation to help defend our valley.
At Alberni Deep Space Port, we're challenging clubs, service groups, businesses, school classes and individuals to adopt a patch of land and keep it broom-free.  This can be your own property or apartment grounds, or it can be a bigger project such as public land where you'll need to coordinate with the appropriate level of government.  The City of Port Alberni can also recommend areas that seriously need brooming.  (See the list of contacts at the end of this blog)
Scotch broom is a true alien invader -- and it's flowering early this year, with yellow blooms in vacant lots and along roadsides already.   This will morph into a riot of bright yellow flowers. By mid-June, broom will produce seed pods that pop open in summer heat, scattering 18,000 or more seeds per plant. Seeds are viable for 25 - 50 years.  Broom grows fast, roots deep, and can reach 3 meters tall. Bacteria on the roots alter the soil, allowing other invaders to flourish. There are no natural enemies of broom to control it.  There's only you and me, armed with our trusty loppers.
In the Alberni Valley, May is prime brooming season.  Broom must be cut before the seed pods form, preferably while the plants are in full bloom, taking as much energy out of the plants as possible.  Once the pods form, even if they're green, they'll ripen after cutting and launch their seeds.
Broombusters.org is a prime resource (non-profit), and coordinates cuts on much of Vancouver Island:  http://www.broombusters.org/
Why cut broom?1.  Every part of the plant is poisonous. This puts grazing animals especially at risk, but also other pets who might accidentally ingest seeds. Children (who love to stuff things in their mouths) are at serious risk.  Some people report contact allergies or allergies to broom pollen.
2. The plant is an extreme fire hazard.  High oil content in the stems makes mature broom highly flammable. As our summers become increasingly hot and dry, broom infestations threaten our forest community.  This coming summer with be especially risky.
3 Broom chokes out native vegetation.  Native flowers, shrubs and trees are choked out and extirpated in areas of heavy broom infestation -- along with the native birds and animals that depended on them.
4 Broom is a threat to agriculture and the economy.  Where broom invades fields, the land can no longer be used for agricultural production.  Grazing animals and poultry are at risk; grains and produce grown may be contaminated by seeds and broom chips. With food security a world-wide issue, this is a serious matter.  In the agriculture sector alone, BC farmers and ranchers lose an estimated $50 million in crop revenue, and pay several million dollars for control measures. (Ministry of Agriculture and Lands).
This alien invader is assimilating land everywhere! Isn't resistance futile?1 Resistance is essential!  Persistence pays! 65% of broom seeds germinate in the first two years. Adopt a patch and return to the same area for at least two seasons (preferably three or more), then keep the area on a "watch list" to catch newcomers.
2 Create "islands of stability" where native vegetation can repopulate the soil, and enlarge these broom-free zones to continue pushing broom back season by season.
3 Random cuts of heavy infestations are fun and spectacular for the first year only. Just the disturbance of walking, dragging branches and pushing loppers to the base of stems can trigger seed growth in the scuffed-up soil. Broom will be back, like whack-a-mole!
What can I do?1 Be Broom-Free and proud of it! Adopt your own property or apartment grounds to set an example!
2 Learn to cut broom effectively and safely (tutorial at Broombusters.org).  Wear gloves, eye protection, long-sleeved shirts & pants, and sturdy lace-on boots for rough terrain.  Use hand tools only (loppers, bypass pruners and pruning saws).  Weedeaters and other power tools leave dangerous stubs above ground, making the cut ineffective.  In this context, they are also liable to throw stones and debris, causing injury.  Cutting broom is an up-close-and-personal experience.
3. Always obtain permissions ahead of time from landowners, municipalities or highways departments, and arrange for proper disposal before you cut.
4 Spread the word! Tell people about broom, and about Broombusters.org.
5 Lobby garden stores, landscapers and municipalities to never plant broom of any variety.  They all escape sooner rather than later, and add to the infestation. In Washington State it is illegal to transport, distribute, buy, sell, or offer Scotch broom for sale!
6  Mobilize your own club, service group, school class or family -- adopt a patch and Keep it down!
7 Brag about it!  Post your cut at Broombusters.org.  Put a photo into our local newspapers and on your Facebook page.
How did we get into this mess?     Scotch broom arrived in BC in 1850, when a homesick Scot planted a handful of seeds on his farm in Sooke. Broom now infests much of Vancouver Island and the southern mainland, spreading to Haida Gwaii, north to Terrace and south into the United States.
Resources:
Alberni Deep Space Port brooming on Shaw TV:  https://www.youtube.com/watch?v=jYebAAQUjaA
Broombusters (lots of info; shows who's cutting where)      http://www.broombusters.org/Royal BC Museum   http://alienspecies.royalbcmuseum.bc.ca/eng/species/scotch-broomBrl
Invasive Species Council of B.C. http://bcinvasives.ca/    Learn about broom and other invasive species in our area, including English Ivy . Even if you can't cut, you can be part of their Spotters' Network.  Field guides on best practices for controlling invasives in forestry, parks, etc.
For cuts on City land, coordinate with Port Alberni Horticulture & Parks supervisor, Jacob Colyn (250-723-2181)  http://www.albernivalleynews.com/news/248893951.html
For cuts on highway margins, get the Adopt-a-Highway waiver from this Broombusters page:  http://www.broombusters.org/adoptahighway.html
 
DISCLAIMER:  Alberni Deep Space Port Star Trek Fan Assoication is a registered BC non-profit society, affiliated with STARFLEET, the International Star Trek Fan Association, Inc. -- itself  a registered not-for-profit based in the United States.  Use of trademarked terms is under "fair use" only, as permitted by law.  No infringement is implied or intended.  This message and this organization are both not-for-profit.