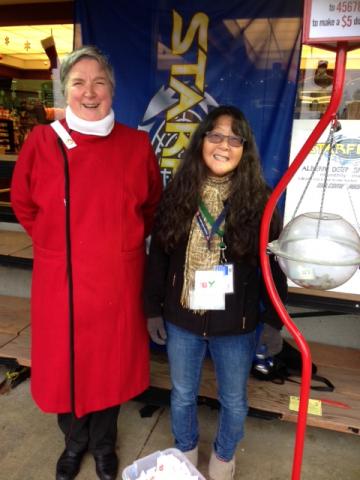 Port Alberni's local STARFLEET chapter challenges all clubs and societies in the Valley to staff one Salvation Army Christmas Kettle for one day this December!
On Saturday November 29, local STARFLEET members will boldly go to staff a Christmas Kettle at Quality Foods from10 am to 8 pm, taking turns in two-hour shifts.  This will be the group's third consecutive year supporting a better future for our community by helping out with the annual Christmas Kettle campaign.   
The challenge is out!  With so many clubs and societies in the Alberni Valley, if each group volunteered for one kettle for just one day, the effect would stellar.  Each day is from 10 am to 8 pm in two-hour shifts, so it's possible to do the day with just 5 club members.  Working in pairs is great fun if you have more members available.  
Your members can wear club jackets, badges, etc. to show that your group cares.  STARFLEET Alberni Deep Space Port members are gearing up for the challenge!  They're gathering up their toques, mittens, sweaters, jackets and long johns to brave the winter weather with warm smiles and jingling bells.  
Will your club or society rise to the challenge?  Contact Salvation Army Christmas Kettle coordinator Lacey Sherman for locations and dates (250-723-6913) or e-mail AVKettles@shaw.ca  
Never "kettled" before?  No problem!  The Salvation Army has orientation sheets for volunteers  at their office at Fourth Avenue and Redford, Monday  to Thursday.  Learn about the Christmas Kettle campaign and get some tips for an enjoyable shift.  Then . . . ENGAGE!
Alberni Deep Space Port Star Trek Fan Association is a registered B.C. non-profit society.  They are affiliated with STARFLEET, the International Star Trek Fan Association, a fan-run 100% volunteer not-for-profit society uniting over 3000 Trek fans world wide.
STARFLEET is dedicated to carrying forward the inspired vision of the future that led Gene Roddenberry to create Star Trek -- the fun and adventure of reaching for that that bright and shining future.  Away Missions support local charities -- eyes on the stars, boots on the ground. Shore Leaves are members' R&R.
Alberni Deep Space Port meets the second Thursday of every month (except December).  For information, contact 250-724-7293 or e-mail albernideepspace@gmail.com
Peace and long life!  See you at the Christmas kettles!