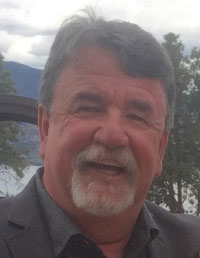 Hello from Doug and Chris
Summer of 2019 is coming fast!
This past summer of 2018 we took 468 people to the Della Falls trailhead. The number is a bit down from 2017 and we think that the smokey conditions had some people rethinking their hiking plans. We had several groups cancel when the smoke was at its worst. Let's hope for less of a fire season in 2019!
Once again we would like to thank all of our customers who used our service in the past couple of years and a special thanks to those of you who took the time to share some photos with us. We love looking back at the pictures as much as you do!
The clocks have just moved ahead for the spring and already we have been taking many bookings. If you are thinking of hiking the Della Falls  trail this summer don't wait to long to book your taxi ride across the lake. Some people last year waited a bit too long and were dissapointed because the spots on the taxi were full. If possible, think about a mid-week trip and not only will your chances of room on the taxi be better, but there will be less people camping in the campsites too!
PLEASE be careful out there and be ultra aware of the fire hazard wherever you are camping or using motor vehicles.
Remember, there are NO fires permitted in Strathcona Park at any time of year.
Hike on!
GENERAL
Permits in place from BC Parks Service to land at the trailhead dock
Full liability insurance coverage
Boats are equipped with a full compliment of safety gear
Our boat is a 20' Hourston hardtop powered by a Suzuki 225HP outboard motor. It can carry 7 passengers plus gear plus the skipper
Our alternate boat is a 20' Allied Mustang powered by a Suzuki 115HP outboard motor. It can carry 5 passengers plus gear plus the skipper
PRICES
Bookings for groups of 2 people are $155.00 per person

Bookings for groups of 3-7 people are $130.00 per person

Children 12 years old and under are $85.00 each

Seniors 65 years and older receive a 15% discount

Dogs and other pets are $40.00 each

Above prices include the 2 way return trip

One way trips can be arranged and are priced depending on availability

Prices do not include 5% GST tax

Upon making a reservation a $50.00, plus GST, per person, non-refundable, booking fee is required to hold the booking. The booking fee is deducted from the total when full payment is made

Full payment is due 3 days before the departure date

Prices are based on a per booking basis. People paying separately or wishing to join an existing group are considered a separate booking
SCHEDULE
Regular summer schedule will start May 1st and end September 30th
Special arrngements can be made to do trips brfore May 1st and after Sept 30th
Most days will have at least one morning trip and one afternoon trip but in the busiest months and especially long weekends we could be doing 4 trips a day. Call or email with your ideal dates and times and we will let you know what is available.
We will do all we can to cater to your schedule and needs, so please contact us and let us know your plan. Extra gear? One way trip? Parents or others who are not planning to hike but would like to do the boat ride to see you off on your trip? Let us know and we will see if we can make it all work.
The one way boat trip, on average, takes about 50-55 minutes depending on weather conditions
MEETING PLACE
We have the boat moored at the marina in Great Central RV Park and Marina.
The address is 11000 Central Lake Road. Head west out of Port Alberni on Highway #4 and after about 12 km turn right onto Central Lake Road. Go another 8 km and pass through the buildings and tanks that belong to the fish hatchery. About 100 meters further you will come to a T intersection where the pavement ends and the entrance to the resort is straight ahead. There is no parking inside the resort so once you reach the T intersection and see the entrance sign, turn around and park against the chain link fence. It's just a 2 min walk from there to the boat in the marina.
NOTE
If you do not intend to hike the trail but would love to get on the lake for a sightseeing tour this may be possible with time permitting or if there is seating available on one of our regular trips. Again, please contact us to inquire about this or to make these arrangements
BOOKING INQUIRIES
Please use the link below to provide us with some intitial information. (This is not an actual booking)  Then we will contact you shortly after with availability.
https://goo.gl/forms/KcrAsQMFuScJH3R13
CONTACT INFORMATION
Please note there is no cell phone coverage on the lake or anywhere on the entire trail so if we are out there we can be hard to reach by phone. If we don't answer the phone please use the Booking Inquiry link above or the email address below as we check those every day when we get a chance.
Cell phone; 1-250-720-5363 (Doug)
Cell phone, 1-250-290-0062 (Chris)
Facebook (Della Falls Water Taxi)
Contact us for reservations or any other questions you may have and we will do the best we can to help make your trip be the best it can be.