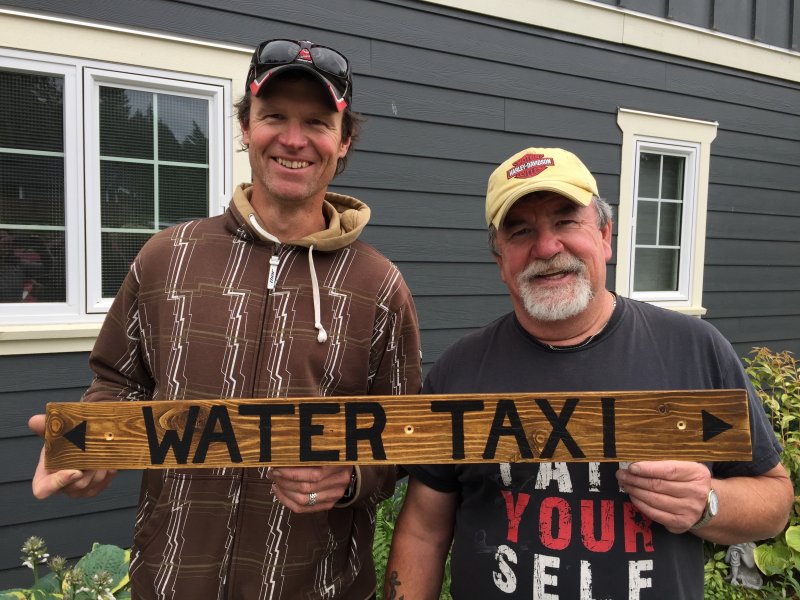 Hello from Doug and Chris,
Well..... it has been a crazy few months! Like nothing this generation has ever seen before. This virus has caused many deaths and also put lots of people into financial and emotional hardships worldwide. Job losses, businesses bankrupt or closing, the worry and stress of possible bank forclosures and huge government debt, it's going to take a while to climb out of this and some of our old daily activities will never come back to the way they were. But we have faith in the human spirit and come back we will! This has been another lesson in learning how precious life really is and a reminder to enjoy all the small things that happen everyday. The old saying still rings true "Stop and smell the flowers!"
One recent development that is a positive sign on the way to recovery is the announcement by BC Parks that most provincial parks will reopen to day use as of May 14th and will reopen to overnight camping as of June 1st. This includes Strathcona Park and the Della Falls Trail. Which means Della Falls Water Taxi is back on as of June 1st. So the prime time of June through July for veiwing the falls is still going to happen this summer!
Some positive thinking people had booked taxi trips even during the peak of the virus rampage but since the announcement by BC Parks we have had many inquiries from people wanting to get out and do the hike and some weekend dates are starting to fill up.
Transport Canada has issued some guidlines regarding the operation of small watercraft. As 2 meter distancing cannot be achieved on smaller vessels the wearing of a face covering by all passengers is required until further notice. People booking a trip with us will be required to supply their own face mask for the trip down and the trip back. We will also be taking some additional precautions such as spraying and wiping down all common surfaces between trips and also we will supply hand sanitizer on the boats.
If you have a group of people that are considering doing this hike we encourage you to send us a quick email and we can advise you on the availability of your ideal dates and times.
Let's get out there and......
Hike on!!
GENERAL INFORMATION
Permits in place from BC Parks Service to land at the trailhead dock
Full liability insurance coverage
Boats are equipped with a full compliment of safety gear
Our boat is a 20' Hourston hardtop powered by a Suzuki 225HP outboard motor. It can carry 7 passengers plus gear plus the skipper
Our alternate boat is a 20' Allied Mustang powered by a Suzuki 115HP outboard motor. It can carry 5 passengers plus gear plus the skipper
PRICES
Groups of 2 people - $160.00 each

Groups of 3-7 people - $135.00 each

Kids 12 years old and under - $90.00 each

Pets - $45.00 each

Seniors 65 and older receive a 15% discount

Add 5% GST to all above prices

Prices are for the 2 way round trip
SCHEDULE
Regular summer schedule will start May 15st and end September 8th
Special arrngements can be made to do trips brfore May 15th and after Sept 8th
Most days will have at least one morning trip and one afternoon trip but in the busiest months and especially long weekends we could be doing 4 trips a day. Call or email with your ideal dates and times and we will let you know what is available.
We will do all we can to cater to your schedule and needs, so please contact us and let us know your plan. Extra gear? One way trip? Parents or others who are not planning to hike but would like to do the boat ride to see you off on your trip? Let us know and we will see if we can make it all work.
The one way boat trip, on average, takes about 50-55 minutes depending on weather conditions
MEETING PLACE
We have our boats moored at the marina in Great Central RV Park and Marina.
The address is 11000 Central Lake Road. Head west out of Port Alberni on Highway #4 and after about 12 km turn right onto Central Lake Road. Go another 8 km and pass through the buildings and tanks that belong to the fish hatchery. About 100 meters further you will come to a T intersection where the pavement ends and the entrance to the resort is straight ahead. There is no parking inside the resort so once you reach the T intersection and see the entrance sign, turn around and park against the chain link fence. It's just a 2 min walk from there to the boat in the marina.
NOTE
If you do not intend to hike the trail but would love to get on the lake for a sightseeing tour this may be possible with time permitting or if there is seating available on one of our regular trips. Again, please contact us to inquire about this or to make these arrangements
BOOKING INQUIRIES
Please use the link below to provide us with some intitial information. (This is not an actual booking)  Then we will contact you shortly after with availability.
https://goo.gl/forms/KcrAsQMFuScJH3R13
CONTACT INFORMATION
Please note there is no cell phone coverage on the lake or anywhere on the entire trail so if we are out there we can be hard to reach by phone. If we don't answer the phone please use the Booking Inquiry link above or the email address below as we check those every day when we get a chance.
Cell phone; 1-250-720-5363 (Doug)
Cell phone, 1-250-290-0062 (Chris)
Facebook (Della Falls Water Taxi)
Contact us for reservations or any other questions you may have and we will do the best we can to help make your trip be the best it can be.