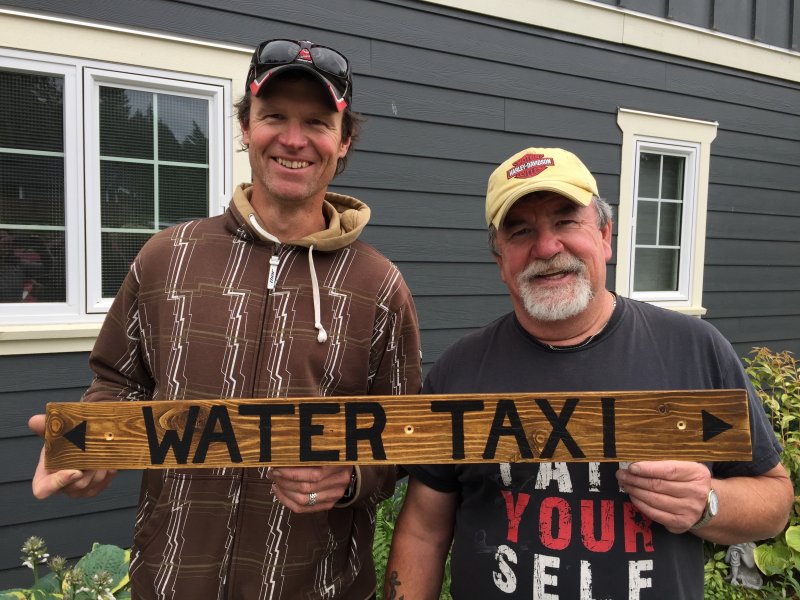 Hello from Doug and Chris,
Wow! How times have changed since our last update in early Feb! In just over 2 months the entire world has turned it's focus to fighting a common enemy in the Covid-19 virus. Crazy times indeed!
As Chris said " We are truly experiencing a historic event". Both of us are doing as instructed by health officials and hunkering down and keeping trips away from the house to an absolute minimum. On the bright side (and there's always a bright side) I am catching up on some household chores I have been putting off for a while.
As far as Della Falls Water Taxi goes we are unsure what the future holds. At the moment BC Parks has closed all provincial parks to any overnight camping. This is effective until April 30/2020 when they will reassess the situation and decide if camping will be opened or the closure will be extended. Obviously the best case scenario is we are over the worst of the crisis by May 1st and BC Parks and Parks Canada will reopen to camping. Personally we think this is a bit optimistic. Although we hope not, it could take half or all of the summer to reach that point. As with everyone else, we just don't know.
If you are considering a trip to Della Falls we encourage you to call or email and we can block your times, however we will not be accepting deposits at this time. When BC Parks gives the all clear to camp we will then accept deposits for trips booked.
We would like to say a special thanks to all health care workers and first responders who once again put their lives on the line to help the rest rest of us when we need it most and this time it's something they have not seen before! Thank You!
Hopefully the folks working behind the scenes in the research facilities around the world can come up with something that can get us through this.
In the meantime we'll continue to stay low and try to keep this virus from spreading as much as we can.
Back to trimming blackberries.
Hike on!
GENERAL
Permits in place from BC Parks Service to land at the trailhead dock
Full liability insurance coverage
Boats are equipped with a full compliment of safety gear
Our boat is a 20' Hourston hardtop powered by a Suzuki 225HP outboard motor. It can carry 7 passengers plus gear plus the skipper
Our alternate boat is a 20' Allied Mustang powered by a Suzuki 115HP outboard motor. It can carry 5 passengers plus gear plus the skipper
PRICES
Groups of 2 people - $160.00 each

Groups of 3-7 people - $135.00 each

Kids 12 years old and under - $90.00 each

Pets - $45.00 each

Seniors 65 and older receive a 15% discount

Add 5% GST to all above prices

Prices are for the 2 way round trip
SCHEDULE
Regular summer schedule will start May 15st and end September 15th
Special arrngements can be made to do trips brfore May 15th and after Sept 15th
Most days will have at least one morning trip and one afternoon trip but in the busiest months and especially long weekends we could be doing 4 trips a day. Call or email with your ideal dates and times and we will let you know what is available.
We will do all we can to cater to your schedule and needs, so please contact us and let us know your plan. Extra gear? One way trip? Parents or others who are not planning to hike but would like to do the boat ride to see you off on your trip? Let us know and we will see if we can make it all work.
The one way boat trip, on average, takes about 50-55 minutes depending on weather conditions
MEETING PLACE
We have our boats moored at the marina in Great Central RV Park and Marina.
The address is 11000 Central Lake Road. Head west out of Port Alberni on Highway #4 and after about 12 km turn right onto Central Lake Road. Go another 8 km and pass through the buildings and tanks that belong to the fish hatchery. About 100 meters further you will come to a T intersection where the pavement ends and the entrance to the resort is straight ahead. There is no parking inside the resort so once you reach the T intersection and see the entrance sign, turn around and park against the chain link fence. It's just a 2 min walk from there to the boat in the marina.
NOTE
If you do not intend to hike the trail but would love to get on the lake for a sightseeing tour this may be possible with time permitting or if there is seating available on one of our regular trips. Again, please contact us to inquire about this or to make these arrangements
BOOKING INQUIRIES
Please use the link below to provide us with some intitial information. (This is not an actual booking)  Then we will contact you shortly after with availability.
https://goo.gl/forms/KcrAsQMFuScJH3R13
CONTACT INFORMATION
Please note there is no cell phone coverage on the lake or anywhere on the entire trail so if we are out there we can be hard to reach by phone. If we don't answer the phone please use the Booking Inquiry link above or the email address below as we check those every day when we get a chance.
Cell phone; 1-250-720-5363 (Doug)
Cell phone, 1-250-290-0062 (Chris)
Facebook (Della Falls Water Taxi)
Contact us for reservations or any other questions you may have and we will do the best we can to help make your trip be the best it can be.